CHAIN-SONGS live at the HEADWAY-Festival 2005 with FATES WARNING and ENCHANT
02/20/05
Christian and Stephan are going to perform live with their band TRANSMISSION at the HEADWAY-Festival in the netherlands on Saturday, April 2nd 2005. Headliners are ENCHANT and FATES WARNING feat. Mike Portnoy. TRANSMISSION will play songs from their upcoming album as well as 1 song from CHAINīs "Reconstruct" and another from the "Chain.exe"-Album. For more information visit www.headwayfestival.com and www.transmission-online.de
Reviews
09/16/04
Want to read any recent revies of chain.exe? Check out HenningPauly.com
Limited Edition DVD now in manufacturing!!!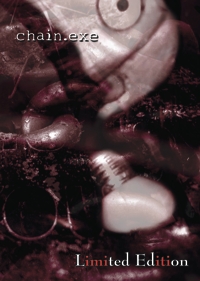 (10/09/2004)
The DVD is finally done with a lot more goodies than we originally promised. Because of that reason we decided to make 500 more and increase the limited edition to 1000 DVDs. We will also sell the DVD seperately from the CD now and increase the price for the CD/DVD Set just a bit because we also wanted a cover for it now that it contains so much more than anticipated. BUT...no worries, those of you who already ordered it will receive it as promised (in a CD sleeve) for the price that you paid, so consider yourself lucky that you bought it early. Although there is no live footage on this DVD because Chain simply doesn't play live, we have several clips from concerts from about 10 years ago...bands that the guys from Chain once played in and other stuff. There are interviews , a music video and even some short clips of Babysteps...

More lyrics anyone
09/16/04
There you go! Chain.exe lyrics have just been added. Just like before click the "lyrics" link behind each song on the discography page!
New section
09/16/04
And yet another update for you. We've got a brand new section up. Under "Band" you'll be able to find out more about the members of Chain, watch some new pics, check out what gear they use and what music they listen to...
Lyrics added
09/16/04
As promised the lyrics for Reconstruct are now available. Just click the "lyrics" link right behind each song on the discography page to view them.
Chain.exe lyrics will be added soon, too...